SUBSCRIBE and Get the latest news and tips from Audrey and unlock the secrets to better communications - Click here
Audrey is co-chair of the Diversity and Employee Relations PDG for Mile High SHRM.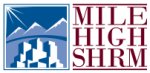 SHRM is a preeminent and globally recognized HR professional society whose leadership, perspective, resources and expertise are sought and utilized to address the most pressing, current and emerging human resource management issues. Mile High SHRM is a Mega Chapter with a 1,000 membership.