WHAT WERE THEY THINKING? Stop Sexual Harassment Before It Begins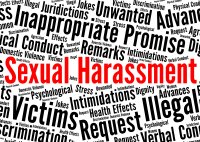 Sexual harassment has been around for ages; just ask Samson and Delilah or Anthony and Cleopatra. Each workday we encounter challenges on the job: sexual harassment should not be one of them.
No laughing matter! Recent events and studies reveal that many women – and an increasing number of men – have been sexually harassed in their work lives. Experts conservatively estimate that at least 50% of U.S. women will experience sexual harassment during their careers. A typical Fortune 500 company loses $6.7 million per year in absenteeism, low productivity and employee turnover due to sexual harassment.
Can't you take a joke? Sexual harassment is misunderstood and mischaracterized. It's dehumanizing and divisive. Here are practical answers outlining the "what, where, when, why and how" to stop harassment. Learn zero tolerance approaches both women and men can live with!
Still Crazy After All these years
The Five Most Asked Questions about Sexual harassment
Why are We Here? : The Latest Legal Updates from the Supremes (and we don't mean the rock n roll group)
It's the Law, Baby: Legal guidelines
Pay the Big Bucks: Liability (organizational and personal)
Back to Basics
Compliment: Harassment or not? Legal Definition
Intent versus Impact: Well, I didn't mean anything by it!
No is still NO in any language
You've Come A Long Way, Baby or have you?
How to know it when you see it.
Bald and Bold: Who's your harasser?
Weak or wild: Who's the harassee?
I've the Got the Power
Cupid in the Workplace: The Dating Dilemma
The "Politically Correct" Movement
It's What You Don't Say that Means a lot!
Talk is Cheap: Take Action!
An ounce of prevention
Test driving your organization's policy
Who, what, where, when and how
Just the facts
Document, document, document!
It's up to you: Own it!
Take your first step