The Art of Conscious Communication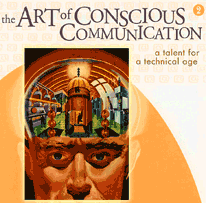 The Art of Conscious Communication: A Talent for a Technical Age
There is a direct correlation between how you communicate and your overall success both at work and home! You cannot not communicate; everything you say or do sends a message. Today's technology such as email, Twitter, and the Internet has made communication faster and more accessible. Telecommunication is a misnomer; we've lost the human moment. Additionally most of us operate on automatic in The first five seconds: There is no dress rehearsal for a first impression!  Additionally, our everyday face-to-face communication. This highly interactive program brings communication into consciousness and supplies tools to help you send the message you want.
Making Time for Face Time: The evil Twins and Social Media.
Understand the P.O.W.E.R. model for listening.
Shut-Up School: Why Listening is the Most Critical Communication Skill.
Reach Out and Touch Someone: The Critical Role of Empathy in Communication.
The Split Ear Advantage: The Gender Component.
He Speaks, She Speaks: The Underpinnings of Gender Communication.
I Think You Said: Why We Paraphrase -to Get it Right!
It's What You Don't Say That Means A Lot: Nonverbal Considerations.