Women in Leadership: Communication, Credibility and Power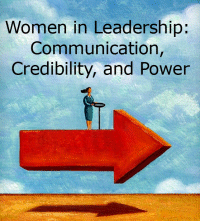 This program is about identifying internal and external barriers women confront in leadership and how to triumph above them.
Sheryl Sandberg , the COO of Facebook is ranked one of Fortune's list of the 50 Most Powerful Women in Business and Time's 100 Most Influential People in the World. She suggested in her NY Times best seller, that women need to Lean In. She asks the question why men still hold the vast majority of leadership positions in the US. Women became 50% of the college graduates in the early 1980s.
A meager twenty-one of the Fortune 500 CEOs are women. Women hold about 14% of executive officer positions, 17 percent of board seats, and constitute 18 percent of our elected congressional officials.
Girls are increasingly outperforming boys in the classroom, earning 57% of undergraduate degrees in the United States and girls graduate with higher GPAs. This is a talent pool that HR professionals cannot afford to ignore or develop.
The Origin of the Rules of Engagement
From the Playground to the Boardroom
The Seven Most Asked Questions About Gender : Men and Women as Two Distinct Subcultures
The Fear of Success Syndrome
The Confidence Code
Expanding Your Presence
The Twelve A's to Axe: Ways Women are Socialized that Create Stumbling Blocks
How to achieve the Balance of Being Assertive
Letting Go of Approval and Affiliation
Smart Talk: Being Heard and Taken Seriously
5 Ways Women and Men Manage Conversation
Taking Charge versus Taking Care
How Process versus Goal Oriented Talk can undermine credibility
Unlocking your Credibility
It is What We Don't Say that Means A Lot
Nonverbal Cues that Enhance Credibility
The Top 5 Noverbals that Undermine Credibility
What is Means to "Walk the Walk"
How Leadership is Achieved with Code-Switching
What is the Code-Switching Style?
How Code Switching is a Blend of Two styles-Masculine and Feminine: A Synergistic Approach to communication
How Code Switching is Strong and Soft, Assertive and Straightforward
How Code Switching is Flexible and Adaptable
Wrap-Up: Back to Work as a Visible, Credible Employee-Enforce the Opportunity and Success You Deserve
Breaking the "He" and "She" Code
How to Become Self-Conscious, Self-Aware and Self Monitor Your Communication