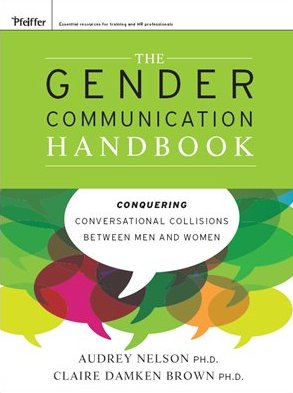 Gender Communication
THE GENDER COMMUNICATION HANDBOOK – CONQUERING CONVERSATIONAL COLLISIONS BETWEEN MEN AND WOMEN
Pfeiffer – An Imprint of Wiley 2012
The Gender Communication Handbook is for anyone who works with the opposite sex. If you are a part of a management team, in HR, or develop corporate training, this book is a comprehensive guide filled with smart advice, extensive research, self-assessments and compelling true-to-life case studies. This was written to clarify some of the many questions about gender, how the rules have changed and will help individuals thrive in a more increasingly diverse workplace and find a common language. Successful gender communication is a business mandate.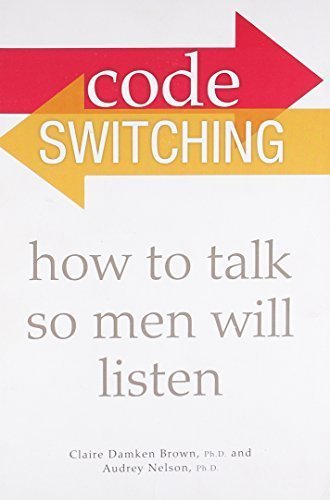 CODE SWITCHING: HOW TO TALK SO MEN WILL LISTEN
Prentice Hall – Alpha Books 2009
There are more women CEOs: 12.6 percent of the Fortune 500 CEOs are women (up from 2.4 percent in 2008). Collaboration is the key for successful workplace managers. Fewer workplace-related ailments arise because work stresses are a thing of the past. Most people are working in careers not just jobs where they feel encouraged and welcomed; they learn, produce, and contribute more than years ago. Men and women work side by side, mentoring each other so they and their company succeed. Businesses regularly offer workshops on how to listen. Women and men are more self-aware of their choices in how they communicate with each other.
How is this all possible? Code Switching is the answer. It became the rage 10 years ago. Women wanted to better themselves and their communication in the workplace. They used their code-switching skills to improve communication with their male colleagues. Women were code switching and men were listening. They still are, to this day. Women know how to value their own communication style and when to use it to get across a message and achieve their goals. They know how and when to use different communication styles to suit their needs.
Code Switching tips will be offered in the following areas:
Getting Down to Business: She Speaks, He Speaks!
Is Anyone Listening?
The Mechanics of Gender Communication
Wired: A Talent for a Technical Age
It's What You Don't Say That Means a Lot
Are You Wearing That?
Fight Fair and Get What's Yours
Ask For What You Deserve
Managing the Office Bully
Workplace Humor: Knock-Knocking at the Executive Suite
Don't Wear Your Heart on Your Sleeve
Keep Your Hands to Yourself
Cupid at the Office: Proceed with Caution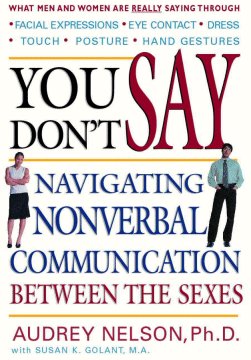 You Don't Say:Navigating Nonverbal Communication Between the Sexes
Most of the ways men and women communicate with one another on a date, at home or in the workplace has nothing at all to do with their linguistic talents. In "You Don't Say", Dr. Nelson explores the hidden, nonverbal meanings in our interactions with the opposite sex—a truer, more accurate indicator of our emotions than speech. This presentation is based on her book by the same title published by Prentice Hall 2004.
93% of the message is conveyed through nonverbal cues: facial expressions,eye contact, touch, gestures, proximity and so on.
I wish Women had a Bar code on their head!
It's the Elephant in the Middle of the Room
Despite all that's been written, men and women are still missing each other. Failures in reading and sending nonverbal messages can:
1. Impede career progress
2. Mar relationships
3. Confuse family interactions
4. Aggravate daily transactions
5. Be costly to our health and financial well-being
Subliminal cues that can cause confusion and dissension and ultimately interfere with women and men's sense of well-being.
Make conscious potentially self-destructive behaviors that both genders exhibit everyday on an unconscious level.
Illuminate behaviors that can be mystifying to both sexes.