Audrey Nelson PhD. is an international trainer, key-note speaker, consultant and author who works with organizations to increase their productivity and profitability through winning communication. strategies.
You can reach Audrey at audrey@audreynelson.com
or at 303.448.1800 O - 303.448.1802 C www.audreynelson.com
---
Audrey is co-chair of the Diversity and Employee Relations PDG for Mile High SHRM.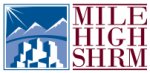 SHRM is a preeminent and globally recognized HR professional society whose leadership, perspective, resources and expertise are sought and utilized to address the most pressing, current and emerging human resource management issues. Mile High SHRM is a Mega Chapter with a 1,000 membership.
Smart Talk
Inclusion and Exclusion: How Business Culture Can Leave Employees Out of Everyday Rituals and Events
Recently in the New York Times there was an article about when the "bros hug it out." The men in the office of a blue collar organization were described as bumping, hugging and grabbing in a bro sort of way. They also would conduct short huddles with their arms around each other. This presents a problem in the sense that it involves men only and women are excluded. What to do? Most women really don't want to be touched in this fashion and this kind of male bonding is characteristically evident in male dominated cultures like football. Now I will be accused of, "gosh, can't we have any fun anymore?"

These informal social rituals like happy hour and the Oscar pool can improve an office culture-unless they leave some people feeling left out! I remember Cheryl who I met when I had a consulting and training contract with a tech start up (she was voted most requested mentor by both men and women). How do you think she felt when she looked out her office window at the end of the day and saw several vans pull up and men from the office were loading up to go to a baseball game. No women, just men. The worst part, Cheryl was a big baseball fan!
Another client, the US Forest Service has policies in place about rituals, especially for new employees, which must involve all employees, not just men. It is not that I don't want people to have fun at work, I want everyone to be able to participate.
Think twice about whether it might help to explore other ways to make everyone feel comfortably included. All workers should be tuned into office culture and if some element makes her feel it interferes with her job, she should talk to her manager.
The focus should be connection and inclusion for everyone. And if women can find other ways to connect and be friendly with co-workers, it would serve her well.
Did you miss one of the Smart Talk Columns?

Browse the archives of Audrey's 2006 to date- Smart Talk Columns on her web! Simply visit www.audreynelson.com and click on "Newsletters.
---


Have you checked out
Audrey's blog?

Self-Presentation, Animated
Energy, and Charisma

Click for article

WOW! Did you know Audrey is the gender communication blogger for Psychology Today? Check out her monthly blog postings.
Take a look at her statistics:

7 Days: 4,692

30 Days: 20,725

90 Days::70,161

All Time: 1,119,644
Over 1 million views!!!

Audrey LIVE!



Audrey will be presenting 2 programs, The Art of Conscious Communication and Unconscious Bias: Observe, Reflect, Act for the Colorado Open Space Alliance conference in Grand Junction, September 10-12.

---

Audrey is organizing an October 17, 2018 Wednesday program, #TimesUp for HR, for Mile High Society of Human Resource Management-a mega chapter with over 1,000 corporate and government members.


11:45 – registration opens
12:00-12:30 – Networking and Membership 101
12:30 – lunch is served
1:00 – 1:45 pm Margaret Parnell Hogan: Litigator Legal implications. She will be presenting legal updates in the area of discrimination and harassment.
1:45-2 pm Break
2-3:15 pm Panel Presentation: What is Corporate America Doing about Gender Equity?

The 3 panel members representing 3 major industries:

Beatrice Opoku- Asare is currently the Global Director, Inclusion and Diversity at Newmont Mining Corporation. Newmont is a 95 year, old largest gold mine in the world.
Susana Escalante, MA has 25+ years as an Executive Human Resources Director for Fortune 500 companies including HP, Seagate and most recently Raytheon Company.
Emily Copeland serves as the Sr Vice President of HR at CoBank, headquartered in Greenwood Village with more than $130 billion in assets.

3:15 - 4 PM Audrey Nelson PhD Wrap up: Managing Unconscious Bias, Observe, Reflect and Act.

Wellshire Convention and Hotel Center, Denver, 11:30 am to 4 pm.
For more information, Contact: https://www.milehighshrm.org.
Feedback from Audrey's recent Managing Unconscious Bias webinar:
WOW! What a great presentation, I learned a lot. Thank you for allowing me to attend.
Lee Cloney, CHPA, CPP, Region Director of Training and Development
Securitas USA Healthcare Division
---
Audrey,
I was on the webinar last week for Managing Unconscious Bias for COSHRM. I also hired you to speak for an organization I used to work with in Eagle Vail, Destination Services Corporation or (DSC) so it was great to hear you present again.
We would like to see if you have a in person training on this topic that you could provide a quote for, more than an hour but probably not more than 3 hours.
Lynette Horan, SPHR-SCP
Human Resources Manager
TOWN OF EAGLE
The Gender Communication Handbook –
Conquering Conversational Collisions Between Men and Women

The Gender Communication Handbook is for anyone who works with the opposite sex. If you are a part of a management team, in HR, or develop corporate training, this book is a comprehensive guide filled with smart advice, extensive research, self-assessments, and compelling true-to-life case studies. More

Code Switching –
How to Talk so Men will Listen

Code Switching is a hands-on tool for everyday use at the office. It is a practical resource with how-to steps to help businesswomen conquer the communication nuances between men and women in the workplace. This book explores the gender impact on business talk. - More

You Don't Say – Navigating Nonverbal Communication Between the Sexes

You Don't Say is the first book to explore the misunderstandings that often arise between the sexes due to nonverbal communication — and to show readers how to say what they mean and get what they want. More than words, it's nonverbal cues that have the power to improve — or impair — our interactions with the opposite sex at home and in the workplace.