Audrey Nelson PhD. is an international trainer, key-note speaker, consultant and author who works with organizations to increase their productivity and profitability through winning communication. strategies.
You can reach Audrey at audrey@audreynelson.com
or at 303.448.1800 O - 303.448.1802 C www.audreynelson.com
---
Audrey is co-chair of the Diversity and Employee Relations PDG for Mile High SHRM.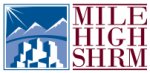 SHRM is a preeminent and globally recognized HR professional society whose leadership, perspective, resources and expertise are sought and utilized to address the most pressing, current and emerging human resource management issues. Mile High SHRM is a Mega Chapter with a 1,000 membership.
Smart Talk
Emotional Contagion: What We Need to Know About its Impact on Communication
Elaine Hatfield, a professor of psychology at the University of Hawaii, was having an uncomfortable experience with a colleague. Although they worked well together and she considered him a friend, every time she interacted with him she felt anxious and self-doubting. She wanted to understand what she was feeling after spending time with this prickly co-worker.
Hatfield had experienced and become the victim of emotional catagion. In an article by Alexandra Sifferlin (Time. The Science of Emotions), she suggests that people can spread their emotions much like a common cold. Emotional states like fear, joy, sadness, love can spread. We all know that when we are around someone who is down at work and brings the morale of the team down with them. How does this happen? We are always reading other people's emotions and of course, some of us are more astute observers. Most of these emotional states are "read" through nonverbal messages like facial expressions.
We know emotional culture can impact employee satisfaction, workplace outcomes, burnout and often the bottom line. It helps to know that emotional contagion exists and to try to inoculate yourself. Empathic people are more susceptible to emotional contagion. Just knowing if you are interacting with an anxious co-worker can be helpful. Another tactic is to try not to take so much in. Try to get some distance so it does not spread to you!
Did you miss one of the Smart Talk Columns?

Browse the archives of Audrey's 2006 to date- Smart Talk Columns on her web! Simply visit www.audreynelson.com and click on "Newsletters.
---

Have you checked out
Audrey's blog?

Anger, Men and Women: Same Emotion, Different Expression

WOW! Did you know Audrey is the gender communication blogger for Psychology Today? Check out her monthly blog postings.
Take a look at her statistics:

7 Days: 5,845

30 Days: 27,144

90 Days::1,047,631

All Time: 1,016,491
Over 1 million views!!!

Audrey LIVE!

Audrey presented A Woman's Guide to Leadership to VISA.

Audrey is Chair of a Mile High chapter of the Society of Human Resource Management. Here she is in action talking about Public speaking.

---

Audrey was interviewed by the Number #1 Montreal talk show on sexual harassment. - Click here to listen
What people are saying about a Women's Guide to Leadership:
I learned many aspects of the importance of women in leadership's roles. It is okay to challenge and question authority. It is important to stop apologizing and that your credibility gets diminished. This course should be a part of every companies "new hive" program; done quarterly for all employees.

Lisa Vaz
Director of Fraud & Risk Services
VISA,Inc
---
As Barack Obama said, "If you are walking down the right path and you are willing to keep walking, eventually, you will hale progress." This course showed us the path to self-monitor and creates change and chooses the path to progress. Be the change.

Prathyusha Apparasu
Sr. Director Issuer Processing
VISA, Inc
The Gender Communication Handbook –
Conquering Conversational Collisions Between Men and Women

The Gender Communication Handbook is for anyone who works with the opposite sex. If you are a part of a management team, in HR, or develop corporate training, this book is a comprehensive guide filled with smart advice, extensive research, self-assessments, and compelling true-to-life case studies. More

Code Switching –
How to Talk so Men will Listen

Code Switching is a hands-on tool for everyday use at the office. It is a practical resource with how-to steps to help businesswomen conquer the communication nuances between men and women in the workplace. This book explores the gender impact on business talk. - More

You Don't Say – Navigating Nonverbal Communication Between the Sexes

You Don't Say is the first book to explore the misunderstandings that often arise between the sexes due to nonverbal communication — and to show readers how to say what they mean and get what they want. More than words, it's nonverbal cues that have the power to improve — or impair — our interactions with the opposite sex at home and in the workplace.