Audrey Nelson PhD. is an international trainer, key-note speaker, consultant and author who works with organizations to increase their productivity and profitability through winning communication. strategies.
You can reach Audrey at audrey@audreynelson.com
or at 303.448.1800 O - 303.448.1802 C www.audreynelson.com
---
Audrey is co-chair of the Diversity and Employee Relations PDG for Mile High SHRM.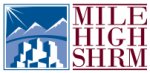 SHRM is a preeminent and globally recognized HR professional society whose leadership, perspective, resources and expertise are sought and utilized to address the most pressing, current and emerging human resource management issues. Mile High SHRM is a Mega Chapter with a 1,000 membership.
Smart Talk
What Would An Inclusive Rider Look Like for Corporations and Wall Street?
The talk of an "inclusive rider" originated in Hollywood and gained traction during the academy awards when Francis McDormand accepted her Academy Award. She suggested it was time to level the playing field in all aspects and levels of movie making from producers, cast, crew and directors. Now Hollywood stars are adopting contractual obligations for diversity. It essentially insists on a guarantee for diversity and inclusion. Could this movement take a leap from Hollywood to corporate American and Wall Street? What would it look like if the biggest organizations were to insist that they would invest in only private equity, venture capital or hedge funds that have hiring practices to address and close the diversity gap? Although study after study demonstrates that organizations that include women in their investment committees empirically outperform their peers, the imbalance continues to exist with white males populating the ranks. Goldman Sachs has been working on a first step toward the advancement of female investment managers. The firm is working on a $500 million initiative to fund female-let investment firms using its own capitol and that of its clients. The firm is also started a project 10,000 Women to support female entrepreneurs on a nonprofit basis. However, to make fundamental changes organizations must change how they hire and develop talent.

Finally, this idea could evolve through government policies. A bill introduced in California would prevent public pension funds based in the state from inventing in asset companies that do not comply with race and gender pay equity policy.

Maybe this is a trend that will take hold.

Did you miss one of the Smart Talk Columns?

Browse the archives of Audrey's 2006 to date- Smart Talk Columns on her web! Simply visit www.audreynelson.com and click on "Newsletters.
---


Have you checked out
Audrey's blog?

How Unconscious Bias Impacts
Women and Men

WOW! Did you know Audrey is the gender communication blogger for Psychology Today? Check out her monthly blog postings.
Take a look at her statistics:

7 Days: 5,852

30 Days: 25,791

90 Days::76,739

All Time: 1,071,829
Over 1 million views!!!

Audrey LIVE!

Audrey was asked by Society of Human Resource Management to conduct a webinar:

Managing Unconscious Bias: Observe, Reflect and Act August 23, 2018
9-10am Credits: 1.0 How you were raised, your background, personal experiences, societal expectations and stereotypes and cultural context can influence your decisions and actions without you realizing it. Implicit or unconscious bias happens when we make decisions in a nano second.

Click to Register
Lara J. Makinen SHRM-CP, PHR
Human Relations Manager - North America - Atkins 303.221.7275 | 303.808.4378

---

Audrey is Chair of a Mile High chapter of the Society of Human Resource Management. Here she is in action talking about Public speaking.
Audrey,
Again, I would just like to tell you how much I enjoyed your presentation at the FDCC conference this week. Great information that I can use to enhance my communication skills today.
If you can add me to your mailing list if you send out newsletter, I would appreciate it.
Thank you,
Gregory Patula
Sr. Claims Adjuster
EMS Insurance Companies
---
Audrey

It was great to see you and to hear your inspirational presentation…thank you very much.

David M. Governo, Partner
Smith & Duggan
The Gender Communication Handbook –
Conquering Conversational Collisions Between Men and Women

The Gender Communication Handbook is for anyone who works with the opposite sex. If you are a part of a management team, in HR, or develop corporate training, this book is a comprehensive guide filled with smart advice, extensive research, self-assessments, and compelling true-to-life case studies. More

Code Switching –
How to Talk so Men will Listen

Code Switching is a hands-on tool for everyday use at the office. It is a practical resource with how-to steps to help businesswomen conquer the communication nuances between men and women in the workplace. This book explores the gender impact on business talk. - More

You Don't Say – Navigating Nonverbal Communication Between the Sexes

You Don't Say is the first book to explore the misunderstandings that often arise between the sexes due to nonverbal communication — and to show readers how to say what they mean and get what they want. More than words, it's nonverbal cues that have the power to improve — or impair — our interactions with the opposite sex at home and in the workplace.