Audrey Nelson PhD. is an international trainer, key-note speaker, consultant and author who works with organizations to increase their productivity and profitability through winning communication. strategies.
You can reach Audrey at audrey@audreynelson.com
or at 303.448.1800 O - 303.448.1802 C www.audreynelson.com
---
Audrey is co-chair of the Diversity and Employee Relations PDG for Mile High SHRM.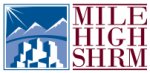 SHRM is a preeminent and globally recognized HR professional society whose leadership, perspective, resources and expertise are sought and utilized to address the most pressing, current and emerging human resource management issues. Mile High SHRM is a Mega Chapter with a 1,000 membership.
Smart Talk
Standing Up for Yourself at Work

Catherine St Louis
Health reporter for the New York Times
One of the struggles I have had throughout my career is saying yes to something and then kicking myself when the time came for me to do the requested task. I would get mad at myself and regret saying yes when I should have said no! Here are a couple of techniques for setting boundaries with co-workers and the boss!
Always begin with an "other" focus. "I know it is important for you to have a strong committee membership."
State your need. "At the moment, I am over whelmed with quarterly reports and will be unable to participate."
Affirm the relationship and offer a possible solution: "It is important to me that your project is a success and I know committee membership is key. I would suggest contacting the VP for additional suggestions. She is good at rotating responsibilities."
Yes-No-Yes sandwich Say yes to yourself, no to the request and yes to the relationship. Often we forget to day yes to the relationship.
---


Have you checked out
Audrey's blog?

He Feels, She Feels: What Different
Things They Express

How much of our behavior is hard wired from evolution and DNA hard wired?

WOW! Did you know Audrey is the gender communication blogger for Psychology Today? Check out her monthly blog postings.
Take a look at her statistics:

7 Days: 4,692

30 Days: 22,594

90 Days::76,267

All Time: 1,097,551
Over 1 million views!!!

Audrey LIVE!



Audrey will be presenting 2 programs, The Art of Conscious Communication and Unconscious Bias: Observe, Reflect, Act for the Colorado Open Space Alliance conference in Grand Junction, September 10-12.

---

Audrey is organizing an October 17, 2018 Wednesday program, #TimesUp for HR, for Mile High Society of Human Resource Management-a mega chapter with over 1,000 corporate and government members.

Wellshire Convention and Hotel Center, Denver, 11:30 am to 4 pm.
For more information, Contact: https://www.milehighshrm.org.
Did you miss one of the Smart Talk Columns?

Browse the archives of Audrey's 2006 to date- Smart Talk Columns on her web! Simply visit www.audreynelson.com and click on "Newsletters.
Audrey,
Again, I would just like to tell you how much I enjoyed your presentation at the FDCC conference this week. Great information that I can use to enhance my communication skills today.
If you can add me to your mailing list if you send out newsletter, I would appreciate it.
Thank you,
Gregory Patula
Sr. Claims Adjuster
EMS Insurance Companies
---
Audrey

It was great to see you and to hear your inspirational presentation…thank you very much.

David M. Governo, Partner
Smith & Duggan
The Gender Communication Handbook –
Conquering Conversational Collisions Between Men and Women

The Gender Communication Handbook is for anyone who works with the opposite sex. If you are a part of a management team, in HR, or develop corporate training, this book is a comprehensive guide filled with smart advice, extensive research, self-assessments, and compelling true-to-life case studies. More

Code Switching –
How to Talk so Men will Listen

Code Switching is a hands-on tool for everyday use at the office. It is a practical resource with how-to steps to help businesswomen conquer the communication nuances between men and women in the workplace. This book explores the gender impact on business talk. - More

You Don't Say – Navigating Nonverbal Communication Between the Sexes

You Don't Say is the first book to explore the misunderstandings that often arise between the sexes due to nonverbal communication — and to show readers how to say what they mean and get what they want. More than words, it's nonverbal cues that have the power to improve — or impair — our interactions with the opposite sex at home and in the workplace.