Women: The Growing Demographic
Estimates have it that one billion women are predicted to enter the global workforce (yes, you read that right, ONE BILLION) by 2023-the next decade! What does this mean for business and what are the repercussions for the economy? Strategist, Penny Frohling, in an interview with CNBC, warns that countries that ignore the growing evidence in favor of women in the workplace will quickly get left behind. In short, countries cannot ignore 50% of their talent pool.

Add to this equation that women in the US are receiving more college degrees and graduate with higher grade point averages.

What are the obstacles confronting women that we can tackle in the workplace? The number one obstacle is care giving. It remains one of the top concerns for working women: work-life balance. Women around the world are primary care givers for children, the sick and the elderly. In the US, childcare costs can consume more than 40% of a women's salary. US corporations have learned a lot, but not enough have implemented polices like job-share, flex-time, on-site day care and maternity leave.

This gender variable cannot be ignored and will soon determine how viable an organization is through impacting the bottom line.
Did you miss one of the
Smart Talk Columns?
Browse the archives of Audrey's 2006 to date- Smart Talk Columns on her web! Simply visit www.audreynelson.com and click on "Newsletters."

Audrey Nelson PhD. is an international trainer, key-note speaker, consultant and author who works with organizations to increase their productivity and profitability through winning communication strategies.

You can reach Audrey at audrey@audreynelson.com
or at 303.448.1800 O - 303-448-1801 F - 303.448.1802 C
www.audreynelson.com

Have you checked out Audrey's blog?




Who is Your Bully? The Gender Twist
Click for article
Don't miss this!

US Forest Service-NRU
Thursday, April 4th - 8 am to Noon:


Ouch that Hurts! Dealing with Difficult People


1 pm to 5 pm
You Can't Get to the Top Alone: Mentoring

Enrique Olivares - eolivares@fs.fed.us 406.329.3449
---
Women's Health Australia magazine interviewed Audrey for an article that examines some of the scientific/evolutionary theories behind why men and women differ when it come to certain areas of life. The article will be posted when it is published in Spring.
Diversity Woman magazine, a national quarterly aimed at women leaders in Fortune 1000 companies, also interviewed Audrey on gender communication. You can learn about DW Media at www.diversitywoman.com
---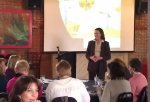 Audrey presented He Speaks, She speaks to 60 people at the Colorado Springs Women's Chamber of Commerce.
Audrey Nelson has mastered the art of "capturing the room" while also engaging the participants before they even realize it! Her polished delivery draws you in while also educating, entertaining and improving the communication skills of the audience. Her dynamic seminars will leave a lasting positive improvement on the participants and I highly recommend her, whether your organization is looking to tweak or completely transform its communication style.
With regard to the book, The Gender Communication Handbook: Conquering conversational Collisions between Men and Women,:
Audrey addresses gender differences in a straight-forward and unapologetic manner. She reveals tendencies in gender communication that we all inherently "know" but, to our own detriment, sometimes ignore. The reader becomes conscious of subtle differences in gender communication styles that will hopefully prevent misunderstandings later in business and, more importantly, in life.
Thanks!
Jason A. Fuchs
Vice President/Branch Manager at Capital Farm Credit
The Gender Communication Handbook –
Conquering Conversational Collisions Between Men and Women

The Gender Communication Handbook is for anyone who works with the opposite sex. If you are a part of a management team, in HR, or develop corporate training, this book is a comprehensive guide filled with smart advice, extensive research, self-assessments, and compelling true-to-life case studies. More

Code Switching –
How to Talk so Men will Listen

Code Switching is a hands-on tool for everyday use at the office. It is a practical resource with how-to steps to help businesswomen conquer the communication nuances between men and women in the workplace. This book explores the gender impact on business talk. - More

You Don't Say – Navigating Nonverbal Communication Between the Sexes

You Don't Say is the first book to explore the misunderstandings that often arise between the sexes due to nonverbal communication — and to show readers how to say what they mean and get what they want. More than words, it's nonverbal cues that have the power to improve — or impair — our interactions with the opposite sex at home and in the workplace.