Hate Speech: Words that Hurt
On October 2, 2011 a full page ad appeared in The New York Times that addressed the use of the term, "gay." With the recent eradication of the Clinton era "don't ask, don't tell" policy and implementation of new policies regarding the incorporation of gays into the military, this was a timely reminder that we need to watch what comes out of our mouth. Of course, words are a reflection of our attitudes. Although we have a constitutional right for free speech, it does not include any speech, gesture or display which is forbidden because it may incite violence or prejudicial action against or a protected individual or group, or because it disparages or intimidates a protected individual or group. The law identifies a protected individual or a protected group by race, gender, ethnicity, nationality, religion, sexual orientation, gender identity, or other characteristic.

Your employer is not the thought or morale police but they are guided by the law to enforce any violation of the above definition of hate speech. So you can think want you want, but you are not allowed to express those opinions at work or in a public setting.

"Gay" was defined in the New York Times ad from an evolutionary perspective as:
There was once a time when all "gay" meant was "happy." Then it meant "homosexual." Now, people are saying "that's so gay" to mean dumb and stupid which is pretty insulting to gay people (and we don't mean "happy" people). So please, knock it off.

Need more guidance? Go to ThinkB4YouSpeak.com
Did you miss one of the
Smart Talk Columns?
Browse the archives of Audrey's 2006 to date
Smart Talk Columns on her web!
Simply visit www.audreynelson.com
and click on "Newsletters."
---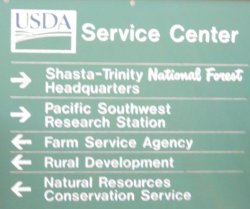 One of the benefits of Audrey's work with the Forest Service-going through the Shasta-Trinity Forest.
Audrey Nelson PhD. is an international trainer, key-note speaker, consultant and author who works with organizations to increase their productivity and profitability through winning communication strategies.
You can reach Audrey at audrey@audreynelson.com
or at 303.448.1800 O - 303-448-1801 F - 303.448.1802 C
www.audreynelson.com
News FLASH!

Audrey signed a contract for her third book with Pfeiffer an imprint of Wiley & Sons, Inc
Working title: The Gender Communication Handbook due on bookstore shelves Spring of 2012. It will be a hardback professional book that will be the source on gender communication.
Events

Farm Credit Council
The Art of Conscious Communication
November 16, 2011
Spokane WA
Information: Denise.Pade@fccservices.com



Broomfield Women's University
Code Switching: How to Talk so Men will Listen
Dec 14, 2011
7:30 am
Clifton Gunderson, 370 Interlocken Blvd, Ste 500, Broomfield, CO 80021.
Register: Lynn Shook, Morgan Stanley Smith Barney
lynn.shook@mssb.com.

DRI: The Voice of the Defense Bar
Victors without Victims
Committee Leadership Conference
January 5, 2012
9:00 -10:30 am
Chicago, IL
Register: nparz@di.org

Covidien Surgical Solutions
January 25, 2012
Noon-1pm
5920 Longbow Drive
Boulder, CO 80301
Registration: Heather.Roach@covidien.com

Stanford Hospital and Clinics
Ouch! That Hurts: Dealing with Difficult People
January 27,2012
8:30 am- 3:30 pm
Register: Weir, Vickey [VWeir@stanfordmed.org]
Have you checked out Audrey's blog?


Men Play it Safe in Conversation - article

---



Stanford Hospital and Clinics - August 2011

---



Audrey gave a keynote, Smart Talk, for the Executive Retreat for KMPG LLP. She is far right in the back row!



---

Audrey has been asked to be the guest expert on communication and Code Switching bi-monthly for FOX 31 Denver.
October 2011


He and She Wired: Guidelines for Using E-mail with the Opposite Sex


Everyday Talk Show Fox 31
KDVR-TV, Denver
Click here for segment
September 2011


Nice Girls and Conflict


Everyday Talk Show CW2
KWGN-TV, Denver
Click here for segment

July 2011




The Generation Gap


Everyday Talk Show CW2
KWGN-TV, Denver
Click here for segmen
Hi Audrey,
Thank you for two great presentations! The attendees were very inspired and are clamoring for more events like it. We did hit the jackpot in finding you!

Susan McCombe, MPA
Director, University and Community Partnerships
FAM for Change Mentoring Program
Moakley Center Room 213
Bridgewater State University
---
Thank you Audrey. I really enjoyed meeting you and hearing your presentations. I also look forward to reading your books; both current and future.
All of the feedback that I've received thus far, is extraordinary. Many of the women thanked us for finding you and bringing you to campus. Thank you for appearing at Bridgewater State University. It was a pleasure to assist you.

Doris Murray
Staff Assistant to
Dave Ostroth,
Vice President for Student Affairs
Code Switching: How to Talk so Men will Listen
Claire Brown Ph.D. and Audrey Nelson Ph.D.
Penguin Group-Alpha Books
ISBN 978-1-59257-926-6
www.codeswitching.biz

Code Switching: How to Talk so Men will Listen is a hands-on tool for everyday use at the office. It is a practical resource with how-to steps to help businesswomen conquer the communication nuances between men and women in the workplace. This book explores the gender impact on business talk. It teaches using true stories and case studies, while providing valuable "code-switching" tips to help women gain and strengthen credibility and make a greater impact on the job

Code Switching:
How to Talk so
Men will Listen -
book trailer


Click here to view