The Double G Force: The Generational and Gender Diversity Component 2010
The American workforce is experiencing a historical double whammy. First, never before have so many different generations been working together. We have the Silent 66 to 87 year olds (1922-1943), Boomer 49-66 year olds (1943-1960), Gen X 29-49 year olds (1960-1980) and Gen Y 9-29 year olds (1980-2000).
Have you listened to your water cooler conversations lately? You will probably hear grumbling and irritation as employees with wholly different ways of working, talking, dressing and thinking have been thrown together cubicle by cubicle! Here are some of the complaints my clients have shared with me:
Only sailors had tattoos in my generation!
Flip-flops at work, you are kidding me!
Doesn't anyone know what a collared shirt is anymore?
I will never wear a tie.
They are a bunch of slackers.
Why isn't their shirt tucked in?
I will not be available for 5 pm meetings. I have a life.
I will never wear panty hose ever!
They practically expect us to wear a uniform at work.
Working at home? You gotta be kidding me.
Can you guess what generation was criticizing what generation? If we have a better understanding of the different generations, we can minimize workplace conflict and enhance our workplace environment.
The second G Force is gender. Women have been entering the workplace in record numbers for the last several decades. More women than men are graduating from college (they also have higher GPAs and consequently, are preferred in top talent recruitment). Even if a woman has three children, she will work an average of twenty-five years outside the home. Finally, with this current downturn in the economy, more women than men are employed; more men have been "downsized." According to the Center for Work-Life Policy, from 2004 to 2009 there was a 28% increase in the number of professional women with nonworking spouses (unemployed and/or retired).
The combined demographic Double G Force is one example of the ever changing and dynamic quality of the American workforce. Diversity and change is always present and constantly evolving.
Did you miss one of the
Smart Talk Columns?
Browse the archives of Audrey's 2006 to date
Smart Talk Columns on her web!
Simply visit www.audreynelson.com
and click on "Newsletters."
January 22, 2010
8 am to 4:30 pm
Colorado Human Resource Association Conference
Field at Mile High, Denver
Come visit Audrey in her booth!
January 27, 2010
USFS
Victors without Victims: Resolving Conflict for a Positive Outcome
8:30 am to 3:30 pm
Missoula, MT

January 28, 2010
USFS
Your Generation or Mine?
Leadership Development Program
8:30 am to 3:30 pm
Missoula, MT


January 11, 2010 at 12:00 PST
Audrey will be featured as a "Breakthrough Specialist" in gender
Hosted by Michelle Price
Break through Business Strategies
Blog Radio
January 16th at 2:00 pm
Book Signing
Barnes & Noble
4045 S. College Avenue
Ft Collins

Tuesday, January 19th at 8:00 am LIVE!
Martha Stewart Living Radio / Sirius XM
Whole Living hosted by Terri Trespicio
February 9, 2010 from 7 pm to 9:30 pm
Lokey Graduate School of Business, Mills College, 5000 MacArthur Blvd Oakland 94613
Co-sponsored by Mills College Lorry I. Lokey Graduate School of Business and the Financial Women's Association of San Francisco, The MBA women's leadership and professional advancement Lokey Graduate School of Business is one of only two U.S. business schools that have as their mission advancing women into leadership positions in business.

Code Switching: How to Talk so Men will Listen Presentation and Book Signing by Audrey Nelson PhD


Business Women Connect (12/2009)


The Advisor (12/2009)
HR Managers' Unspoken Messages: Your Face Says It All

Wisconsin Law Journal (12/03/2009)
New book can help female attorneys improve communication skills by Jane Pribek -

YAHOO (11/2009)
He Said, She Said: How Men and Women Talk at Work

Good Day Colorado Channel 2 KWGN (11/9/200)
Code Switching -

Body Matters (11/02/2009)
How women can crack "the code"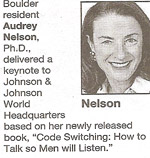 Layoff hitting men hardest
Daily Camera, October 25, 2009


Thomson Reuters (10/24/2009)
Men Speak in Code
Silicon Valley

The Herald (10/19/2009)
Interview with Auckland, New Zealand -
Audrey's New Blog !!

Join Audrey's blog for Q & A on gender communication: Click below to join in
on the following question.
Code Switching: How to Talk so Men will Listen
Claire Brown Ph.D. and Audrey Nelson Ph.D.


Penguin Group-Alpha Books


ISBN 978-1-59257-926-6

Check out the new book website! - www.codeswitching.biz

Code Switching: How to Talk so Men will Listen is a hands-on tool for everyday use at the office. It is a practical resource with how-to steps to help businesswomen conquer the communication nuances between men and women in the workplace. This book explores the gender impact on business talk. It teaches using true stories and case studies, while providing valuable "code-switching" tips to help women gain and strengthen credibility and make a greater impact on the job

---

What people are saying about Code Switching: How to Talk so Men will Listen


Dear Audrey,

I wanted to thank you so much for sending a copy of your new book to me. I have enjoyed it, and recommended it to others. Love seeing you on Channel 2 News!
Best to you,
Kelly Shea
Vice President Government & Industry Relations
WhiteWave Foods

---

CODE SWITCHING: HOW TO TALK SO MEN WILL LISTEN offers a method of opening communication lines between the genders, presenting a 'gender code' and common conflicts and outlining strategies based on examples and anecdotes showing how others have used these practices to break stereotypes. From underlying signals sent by common phrases ("are you wearing that?") to negotiating strategies and underlying tensions, CODE SWITCHING is a pick any general lending library will want.