Blaming the Victim:
Should clothes matter?
Recently, Jenice Armstrong of the Philadelphia Daily News claimed that "Mexican TV sportscaster Ines Sainz has a smoking-hot body-the kind most women would kill for."

When Ines Sainz showed up at a NY Jets practice recently in a low-cut blouse and "painted on jeans," the coach and players acted like frat boys sending her hoots, howls, wolf-whistling and openly ogling her. This boorish behavior received national attention and resulted in the NFL reprimanding the Jets.

Recently, I have been asked to be a monthly guest expert for Denver FOX network.

I did a segment titled "Men behaving badly." In addition to the Sainz incident I discussed the recent Manhattan Citibank sexual harassment claim from Debrahlee Lorenzana who said she was fired for her "sex appeal" and her appearance, which was "distracting".

Certainly, dress code is an issue and we all have witnessed women going to work dressed like they are working for Hooters. That is a separate issue. Suggesting, "she asked for it" is dangerous territory and "blaming the victim."
The EEOC government website has useful information about what is sexual harassment. Here is one of the myths they provide:

Myth: Some people ask to be sexually harassed. They do this with how they dress, or how they act. They send "signals."

Reality: Being subjected to sexual harassment is a painful, difficult, and frequently traumatic experience. Defenses such as "she wore provocative clothes" are neither acceptable nor accurate.
Sexual harassment is a form of gender discrimination. Others may be blaming you for what has happened, and the "victim" may now have become the "accused."

So the lesson is sexual harassment is never justified.
Did you miss one of the
Smart Talk Columns?
Browse the archives of Audrey's 2006 to date
Smart Talk Columns on her web!
Simply visit www.audreynelson.com
and click on "Newsletters."
Audrey Nelson PhD. is an international trainer, key-note speaker ,consultant and author who works with organizations to increase their productivity and profitability through winning communication strategies.
You can reach Audrey at audrey@audreynelson.com
or at 303.448.1800 O - 303-448-1801 Fax - 303.448.1802 Cell
---
Have you checked out Audrey's blog on



Did you know that Audrey was invited by the editors at Psychology Today to participate as a gender communication expert on the Psychology Today blog .

Current Article
Nice Girls Don't Do Conflict

Do any of these sound familiar:
•Office mom: taking care of others
•Joan of Arc: sacrificing for others or taking a back seat
•Damsel in distress: waiting to be saved
•Quiet Mouse: you are seen but not heard
Engaging in conflict is perceived as unfeminine. It requires a great deal of assertiveness, which may include rocking the boat.. .

Coming soon

January 20, 2011 Noon-1pm
Invent Your future Webinar will feature Code Switching: How to Talk so Men will Listen -
The webinar, presenters, and book will be advertised on the IYF website http://www.inventyourfuture.com
95% corporate women, mid to upper-level management, technical and non-technical, some individual contributors, some entrepreneurs. Attendees come from a variety of industries, with the majority employed by our corporate partners: Apple, Intel, Hewlett-Packard, Rambus, Symantec, Northrop Grumman, and Intuit.



Audrey was recently interview by Glamour Magazine regarding how men and women can communicate about money issues from dating to marriage. - Look for her in March 2011 issue.

Denver Tech Center Colorado Business Women
Wednesday March 9, 2011 from 11 am to 1 pm
Code switching: How to talk so Men will Listen - Maggiano's DTC

March 16, 2011 Women's Chamber of Commerce 11:30 am-1:00 pm Maggianos Restaurant, 500 16th St, Downtown Denver


Audrey has been asked to be the guest expert on communication and Code switching bi-monthly for FOX Denver KWGN. www.kwgn.com
Everyday 10 am Talk Show KDVR/KWGN-TV - Channel 2 -KWGN-TV, Denver
"How to deal with men behaving badly"

(11/9/2010)



Everyday 10 am Talk Show KDVR/KWGN-TV - Channel 2 -KWGN-TV, Denver
"Dating Etiquette"

(10/15/2010)

Everyday 10 am Talk Show KDVR/KWGN-TV - Channel 2 -KWGN-TV, Denver
"How to Deal with People You Hate"

(9/21/2010)



---

Interviewed by AOL on Code Switching: How to Talk so Men will Listen by Aaron Crowe at jobs.aol.com. (10/30/10) -
---
Audrey Goes to
Korea for Gender Consultation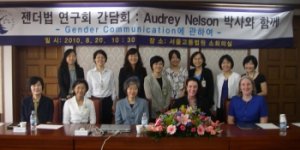 Click here for complete story and pictures
Audrey was asked by the State Department to be a guest speaker and consultant for the US Embassy in Seoul, South Korea. She addressed a variety of groups including the Korean Supreme Court, The National Assembly, Korean media and a variety of women advocacy groups.