Audrey Nelson PhD. is an international trainer, key-note speaker, consultant and author who works with organizations to increase their productivity and profitability through winning communication. strategies.
You can reach Audrey at audrey@audreynelson.com
or at 303.448.1800 O - 303.448.1802 C www.audreynelson.com
---
Audrey is co-chair of the Diversity and Employee Relations PDG for Mile High SHRM.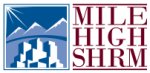 SHRM is a preeminent and globally recognized HR professional society whose leadership, perspective, resources and expertise are sought and utilized to address the most pressing, current and emerging human resource management issues. Mile High SHRM is a Mega Chapter with a 1,000 membership.
Smart Talk
An Accidental Email Experiment:
Action Steps for Prevention of Sexism
INC. Magazine published an article by Melanie Curtin that told a story about Martin Schneider who shared an inbox for a resume writing editing service with Nicole Pieri.

One day he was emailing a client back-and-forth about his resume and the guy was being impossible. He was rude, dismissive, ignored questions and claiming his standards were industry standard (they were not). Just as Mr. Schneider was getting frustrated by the push back, he noticed that, due to his shared inbox, he had been signing all communications as "Nicole."

Then he sent an email that said, "Hey, this Martin and I am taking over this project for Nicole." The difference was like night and day-an immediate improvement!

For fun and to run their own experiment, Schneider and Pieri switched names for two weeks. What was the result? Schneider said, "It sucked. I was in hell. Everything I asked or suggested was questioned. Clients I could do in my sleep were condescending. One asked if I was single."

This is the reality for women today. It is not unique to any one industry or company. Try this:
Become self-conscious. Self-aware. Pay attention! Do you challenge or diminish women colleagues?
Do you make a concentrated effort to recruit, promote and get women into leadership positions?
Question yourself and others.
Become an ally (remember it's not just men that practice sexism-women do it too). If she is interrupted, point it out.
Did you miss one of the Smart Talk Columns?

Browse the archives of Audrey's 2006 to date- Smart Talk Columns on her web! Simply visit www.audreynelson.com and click on "Newsletters.
Follow Audrey

Have you checked out
Audrey's blog?

Men, Power and Nonverbal Cues

WOW! Did you know Audrey is the gender communication blogger for Psychology Today? Check out her monthly blog postings.
Take a look at her statistics:

7 Days: 3,348

30 Days: 16,419

90 Days:: 57,992

All Time: 925,653

Audrey LIVE!

Audrey was the keynote at the Miami University in Oxford, Ohio 13th Annual Executive Conference for the Farmer School of Business. The conference theme was focused on addressing and overcoming communication differences between male and females. The title of the conference was "Blindspot."



---

Audrey's program, A Woman's Guide to Leadership was competitively selected for the Mile High SHRM 2018 HR Conference on January 19, 2018, at the Marriott Tech Center, Denver, Colorado. For more information on registration: www.milehighshrm.org

---

Audrey was competitively selected to present to the Northern Colorado Human Resource Association, A Women's Guide to Leadership
Budweiser Event Center
5290 Arena Circle 4th Floor Loveland, CO 80538
January 10 2018 from 11 am to 1 pm
Contact: Melanie Hoobler: NCHRA Board nchrassociation@gmail.com
http://nchra.shrm.org/

---

Audrey was asked to join Curating Connections. www.curratingconnections.com Curating Connections focuses on the development of women leaders through life-long learning, creating valuable connections, and curating impactful, thoughtful discussions with women and men to enhance workplace cultures.
Audrey,
It was a pleasure to have you this weekend as our keynote for the conference! I think your presentation truly hit home for the attendees, and we have heard nothing but positive feedback. I will be sure to send the pictures your way as soon as we get them back from our photographer.
Again, thank you so much for making the conference such a wonderful experience!
All the best,
Katie Cramer
Marketing Entrepreneurship
Miami University Farmer School of Business 2018
President | Women in Business
---
Dr. Nelson,

Thank you so much for coming to speak at our Blind Spots conference this past Sunday! We really appreciated your insights on gender differences. I enjoyed listening to your keynote and your advice on the panel.

Thanks again and I hope you have a good weekend!
Ireland Bender
The Gender Communication Handbook –
Conquering Conversational Collisions Between Men and Women

The Gender Communication Handbook is for anyone who works with the opposite sex. If you are a part of a management team, in HR, or develop corporate training, this book is a comprehensive guide filled with smart advice, extensive research, self-assessments, and compelling true-to-life case studies. More

Code Switching –
How to Talk so Men will Listen

Code Switching is a hands-on tool for everyday use at the office. It is a practical resource with how-to steps to help businesswomen conquer the communication nuances between men and women in the workplace. This book explores the gender impact on business talk. - More

You Don't Say – Navigating Nonverbal Communication Between the Sexes

You Don't Say is the first book to explore the misunderstandings that often arise between the sexes due to nonverbal communication — and to show readers how to say what they mean and get what they want. More than words, it's nonverbal cues that have the power to improve — or impair — our interactions with the opposite sex at home and in the workplace.